Adopting GCG and Conducting CSR as Part of Sustainable Growth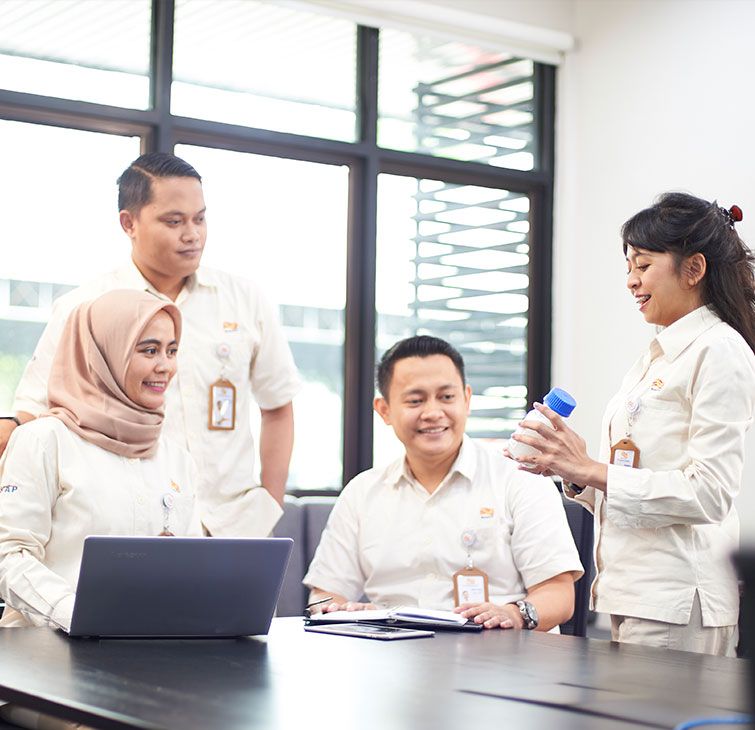 Polytama is committed to implementing GCG principles to ensure that the Company has a strong competitiveness and a sustainable growth outlook. Corporate governance is conducted, among other means, by maximizing Company value through improving the principles of transparency, accountability, trustworthiness, responsibility, and fairness.
Polytama continues to strive towards managing the Company in a professional, transparent, and efficient manner, empowering the various functions and increasing independence of the Company organs, all of which are based on high moral principles and in full compliance with applicable laws and regulations.
In terms of production, Polytama has applied a multisource procurement policy to control cost efficiency and obtaining high quality goods. In addition, we also place a total quality management program, adopting international quality standards, so that governance in terms of production will be more measurable and accountable.
Corporate Social Responsibility
The implementation of corporate social responsibility (CSR) is a form of Polytama's commitment to business sustainability, environmental balance, and community empowerment, which has a positive impact on the stakeholders.
Polytama's CSR activities focus on efforts to empower the economies of surrounding communities, to promote reforestation and environmental preservation, to mount responses to natural disasters, and to address health, religion, sociocultural, youth and sports, as well as nationalism and patriotism issues.
Polytama 27th Anniversary
Polytama 27th Anniversary.
Also Present at the G20 Exhibition, Polytama Attracts the Attention of Foreign Guests by Opening a booth and Cumin Tea Products Innovation CSR I-MASARO
Presidency Exhibition which is a series of agendas for the 3rd meeting of the Deputy Environment and Climate Sustainability Working Group (3rd G20 EDM-CSWG). Polytama opened a booth introducing cumin tea "Syahi & Sahi Cumin Tea" or known as "S & SJ Cumin Tea". This product is included in the CSR program fostered by Polytama which comes from the I-MASARO (Indramayu Waste Management Zero) development program.
Signing With Local Entrepreneurs Or MSMEs
In order to encourage the partnership of actors foreign investment business as well as domestic investment with Micro, Small and Medium Enterprises (MSMEs) in the form of partnerships, including among others the supply of raw materials, supply chains, or other related services and the implementation of business activities.
ASIA RESPONSIBLE ENTERPRISE AWARDS 2022
Polytama Wins a Series Of CSR Award At The AREA 2022 International & Economic Review Event. Polytama has won an award in the Asia Responsible Enterprise event Award 2022 for the Social Empowerment category and an award from Indonesia Corporate Social Responsibility (ICSRA) 2022 from the Economic Review for the category The Best SDG's Program Implementation – 2022 "Sustainable Cities & Communities".
Masplene Roadshow to Customer
In order to maintain good relations with customers, in line with Polytama's vision to become a strong and dynamic leader of polypropylene producer in Indonesia, oriented to customer and stakeholder satisfaction, Polytama successfully held the first "Masplene® Roadshow to Customer" which visited various cities, starting from from Surabaya, Malang, Semarang, Solo, Bandung and ending in Jakarta. The event takes place over a four-week period, from 15 June 2022 to 7 July 2022.
Polytama Receives a Visit From The Pertamina Board Of Commissioners Committee Team
Indramayu, July 6, 2022 – Polytama received an arrival from PT Pertamina (Persero) at the Plant Site. The visit which took place during the day was attended by the Investment Committee Team, the Audit Committee, and the Nomination & Remuneration Committee from PT Pertamina (Persero) including Mr. Rizal Bambang Prasetijo from the Investment Committee. The visit was welcomed by all Polytama Management.
This visit has the main agenda of presenting material, as well as discussion and discussion of performance aspects at Polytama so that Pertamina as one of the stakeholders gains a deeper understanding of Polytama.
Polytama Signs The IX Coorperation Agreement
Jakarta 21 June 2022 , Polytama Signed Collective Work (PKB) IX for the period 2022 – 2024. Located at the Head Office of Polytama , the signing session was also attended by the Board of Directors of Polytama as well as representatives of the Workers Union Team of the Polytama Employee Communication Forum (SP-FKKP) and representatives of the Human Capital Department.