Applying Modern Technology to Achieve Market Leadership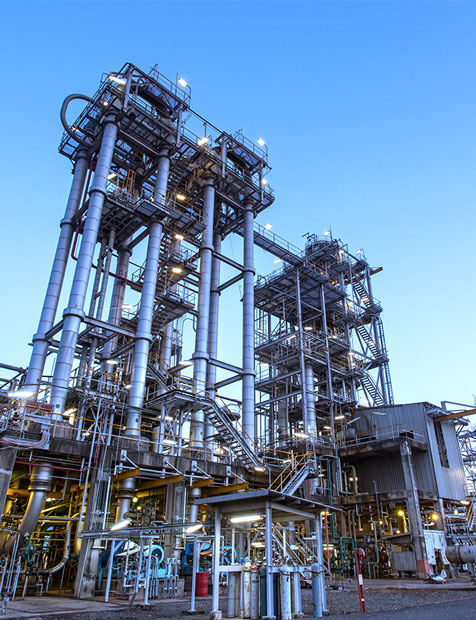 PT Polytama Propindo was established in 1993 as a significant manufacturer of polypropylene resin (PP resin) in Indonesia. Polytama is one of the leading and growing petrochemical companies providing PP resin in Indonesia under the Masplene® brand name. In 2017, Polytama launched its newest product innovation, which is granule. The Polytama plant is located at Limbangan Village, Juntinyuat District, Indramayu, West Java. Polytama is a company in the polypropylene industry, which utilizes LyondellBasell technology, one of the best processing technologies in the world.
In July 1995, Polytama conducted its first production with an initial production capacity of 100,000 MT per year. The supply of high purity propylene gas as a raw material was obtained from the Pertamina Refinery RU-VI Balongan. In 1996, the plant capacity continuously has been grown to 180,000 MT per year.
In addition to the increase of propylene production capacity of Pertamina RU-VI Balongan, Polytama had also increased its capacity to 200,000 MT per year in 2004. Hence, the production capacity continued to increase in 2008 reaching 240,000 MT per year, and reached 260,000 MT per year in 2018.
In line with government policies regarding the development of the petrochemical industry, Polytama has begun its business development initiative with the continuing increase of the installed production capacity at the Balongan Plant to a maximum of 300,000 MT per year in 2020. Going forward, Polytama will further increase its production capacity to achieve 1 million MT per year within the next 5 to 10 year period.
In order to maintain its business sustainability, in 2015 Polytama built propylene-gas transfer facility at the Seaport of Cirebon, including land transportation system from port to the factory of Polytama at Balongan-Indramayu. This endeavour has supported Polytama's efforts to increase customer confidence in the supply continuity of Masplene® products in the market.
To become a leading, tough and dynamic polypropylene producer in Indonesia with strong orientation towards customers and stakeholders satisfaction.
| | |
| --- | --- |
| | Mission |
| | |
| --- | --- |
| | Mission |
To become the market leader of polypropylene producers in Indonesia.
To leverage current capacity to the most optimum level to achieve better or higher production quality.
To promote efficiency and effectiveness in processes, Human Resources and costs.
Modernization of processes, technologies, machinery, and sustainable facilities across all aspects of the company's operations.
To develop proprietary technologies in polymer manufacturing especially for processes,formulation and product customization according to market needs.
To implement multi-sourcing system primarily forkey raw material with the aim to improve the Company's operation reliability.
To build a sustainable human resources system to ensure the company's future viability and the well-being of its employees.
To adopt an integrated management system above and beyond the ISO 9001 – ISO 14001 – ISO 22000 – ISO 45001 standard.
| | |
| --- | --- |
| | Core Value |
| | |
| --- | --- |
| | Core Value |
Our core values consist of the following:
Amanah (Trustworthy)


Kompeten (Competent) 


Harmonis (Harmonious)


Loyal (Loyal) 
Kolaboratif (Collaborative)


Abbreviated as